ATMO Agilis – SIMPLIFIED LABORATORY PILOT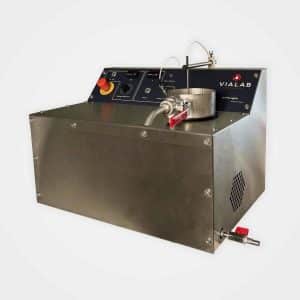 Use & Benefits
---
Very easy to use, it allows to produce emulsions of pure or fluxed bitumens, with or without latex, in atmospheric conditions. In a binder factory, its use leads to a saving of time and savings in considerable materials, and offers the possibility of adapting the productions to the needs of the sites and to the specificity of the materials.
For the quick production of bitumen emulsions in the laboratory
---
Integral carter and High-position outlet Valve
Temperature display + PT100 Probe
Low-position emptying Valve
Optimized command Board
ATOMIX C® Inside
Based on ATOMIX® technology
---
The homogenizer ATOMIX® C equips the laboratories of the main companies in the road sector. The lab pilots are small-size units made to produce bitumen emulsion (or other) on a small scale in order to test the quality and compatibility of the products used (bitumen, emulsifier, latex, etc.).
All over the world, our machines produce all types of emulsions, thus meeting the highest standards.
The production of bitumen emulsions requires a prior search for formulas suitable for the use and application of these emulsions.
---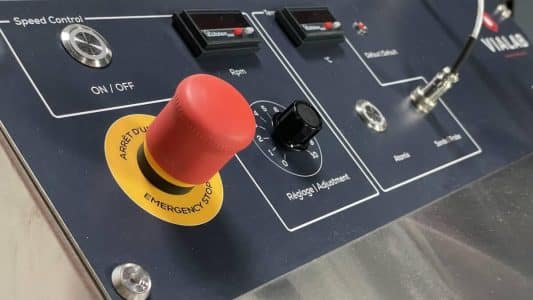 The best for preformulation studies or for rapid testing of pure, fluidized and / or fluxed bitumens.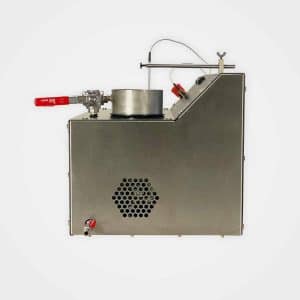 Specifications
---
ATOMIX® Homogenizerl | The benchmark
Production of 500 g- to 1 kg-batches of emulsion (atmospheric < 100°C)
Works with latex and bentonite (max. 2-3% according to Bentonite used)
Heating resistor on the homogenizer
High-speed motor 1500W (1000 to 11000rpm)
Optimized funnel with stainless steel piping and valve
General switch
Frequency converter with potentiometer for rotation speed adjustment
Switch for heat resistence
Temperature and Rotation speed displays
Emergency stop punch button
THERMOMETER | IR | -30/500°C
Contactless thermometer to reduce risk
Facilitates the temperature control of bitumen and / or the aqueous phase
Specifications:
Temperature range: -30°C to 500°C ± 1.5°C
Display resolution: 0.1°C
Response time: < 500 ms
Repeatability of readings: ± 0.8% of readings
Power supply AA battery
Battery life 10 hours with laser and backlight
Rigid, for handling of small quantities of hot bitumen during lab testing
Ø 99 x 119 mm
Without varnish
Without cap
Pack of 120
METAL BOX + COVER | 0.75L
Rigid, for handling of small quantities of hot bitumen during lab testing
Its cap allows storing bitumen samples protected from dust.
Ø 99 x 119 mm
Without varnish
With cap Ø 90 mm
Pack of 120
CLEANING AGENT | BIODEGRADABLE | 20 L
Completely biodegradable – No toxicity!
Product recommended by us for the maintenance of the laboratory pilots.
A flow-through efficiency equivalent to fuel oil, ideal for:
Metal parts with bitumen
Metal parts with greases
Laboratory glassware with emulsion or bitumen
Soiled clothes
Dirty gloves
Soiled shoes
Bitumen filter
Glassware and other laboratory equipment
Specifications:
Based on new generation plant esters (very low odor)
Flash point in a closed cup: 185 ° C
Auto-ignition point:> 300 ° C
Freezing point: <-18.5 ° C
Ready to use
Improves safety at work
20L can