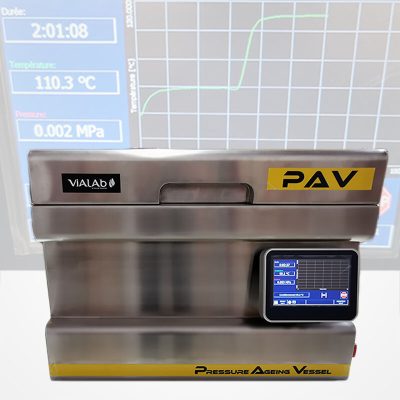 PRESSURE AGING VESSEL | PAV
According to AASHTO R-28, ASTM D6521 and EN 14769 and CE and ASME safety standards.

---
Security
Pressure release valve


Temperature limiter
---
Ease of use
Integrated 7 ″ digital touch screen controller,

4 test options pre-programmed at 85.0, 90.0, 100.0 and 110.0 ° C for 20 or 65h,

Semi-automatic mode from 60 to 120 ° C and 20 to 65h.


Search mode (Manual) for testing Temperatures (ambient at 130 ° C) and non-

standardized durations (1 to 99h).

---
Controller

Digital touch screen control (accuracy +/- 0.03 MPa)

Temperature measurement by multiple platinum probes

Pressure measurement by transducer

Duration measurement

Data storage on USB key (temperature, pressure, duration)

---
Pressure management
Pressure management at 2.1 +/- 0.03 MPa

---
Temperature management
Programmable ambient temperature at 130°C (display at +/- 0.1°C)

Temperature uniformity at ± 0.5°C

Programmable preheating function up to 60°C

---
Air supply
By standard industrial compressed air bottles (not supplied)

Provide a pressure regulator (F025.138.9231)

---
Delivered with
Rack 10 containers

10 containers Ø 140 × 9.5 mm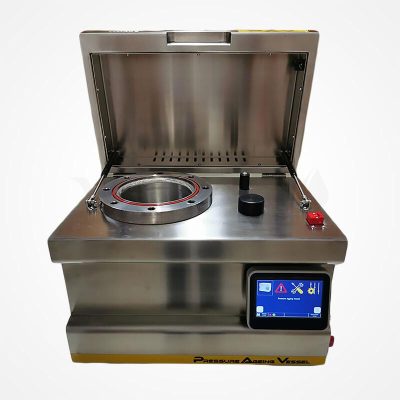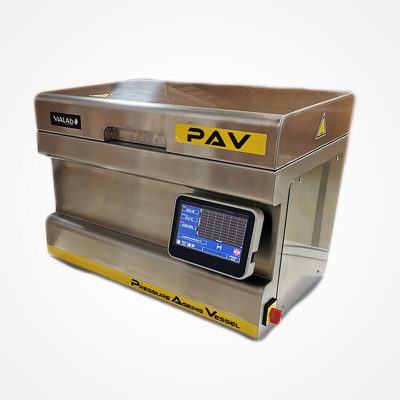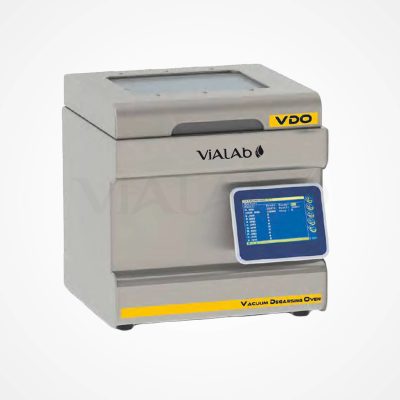 For the application of AASHTO R28, ASTM D6521 standards for accelerated aging under pressure of bituminous binders.
The aging process of PAV bituminous binders leads to the formation of air bubbles in the exposed binders, which must be removed at the end of incubation.
The degassing enclosure was designed to carry out this step at temperatures between ambient and 200°C, under a vacuum of 15 ± 1 kPa as defined in the standard.
---
Enclosure consisting of the following
Heating chamber (up to 200°C) in stainless steel, under sealed vacuum

Hinged cover

Temperature control by platinum probe

Automatic air inlet valve at the end of the cycle


Overheating safety

7″ Digital touch screen with real-time reading of temperature and pressure parameters

---
Operating modes

Automatic: 170 +/- 4°C for 30 minutes,

Semi-automatic: temp. from ambient to 200°C, 30 minutes cycle,

Manual: temp. from ambient to 200°C, cycle from 1 to 99 minutes.


Cycle pressure: 15 ± 1 kPa (display at 0.1 kPa)
SUPPORT RACK | 10 CONTAINERS | PAV