Vialab offers a range of pH meters selected to meet the varied needs of the sector, from factory production where portability and robustness will be paramount, to formulation tests in the laboratory where functionality, precision and ergonomics will be favored.
It is the essential tool in a binder factory, in order to quickly control the aqueous phases on site before production by direct sampling from the aqueous phase tanks.
Its titanium alloy electrode protects the measuring device in an industrial environment.

Supplied with combined pH / Temperature electrode with amplified signal limiting interference




Impact-resistant titanium alloy electrode




PH range: -2 to 16




PH measurement resolution: 0.01 pH




Temperature range: -5 to 105°C




Temperature resolution: 0.1°C




Extra large multi-level digital display screen




Simplified 2-point calibration with 2 sets of 3 standard buffers stored




Waterproof case and ergonomic design




Delivered ready to use with pH / temperature electrode and calibration solutions in a carrying case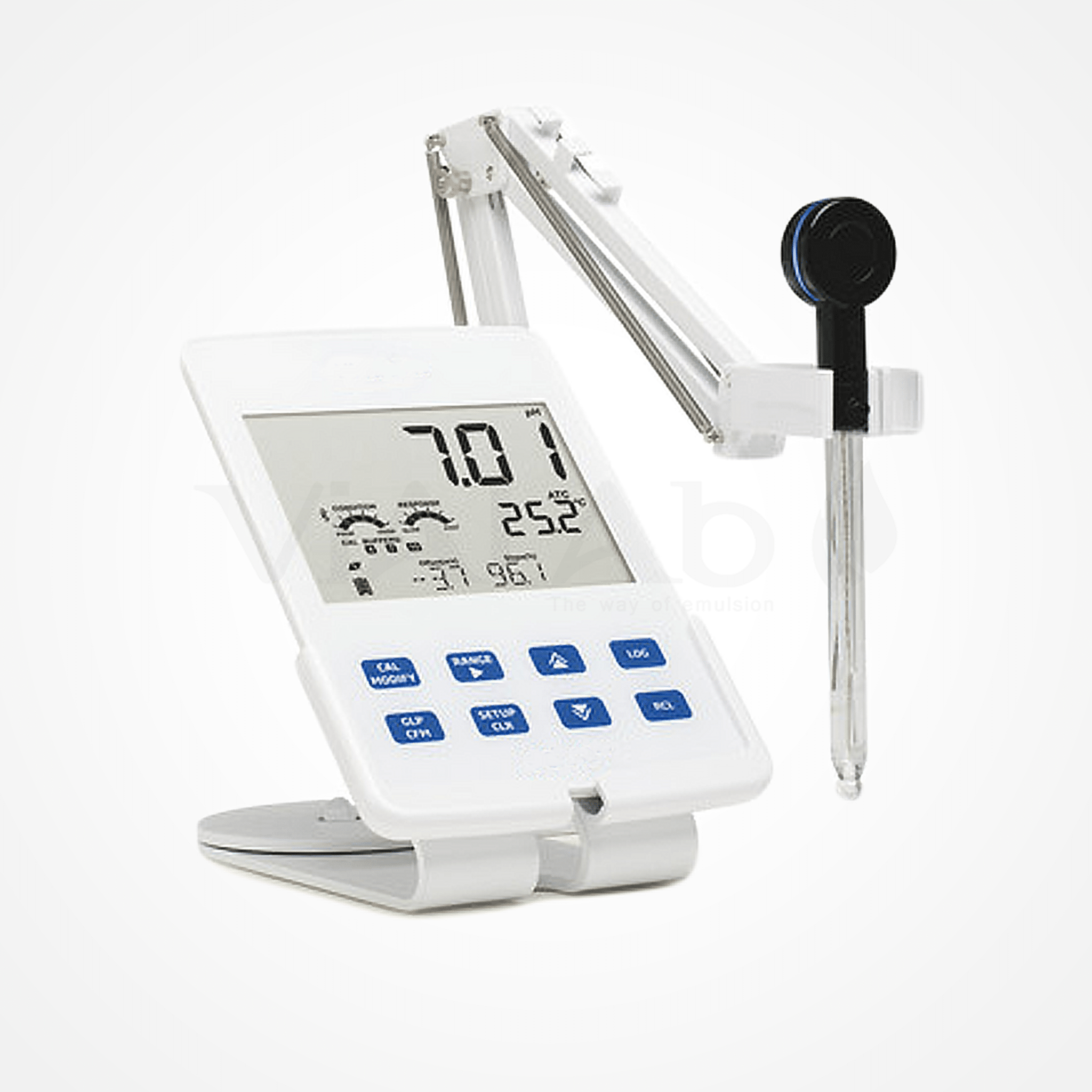 LAB BENCH pH-METER | BLUETOOTH
Thanks to its WIRELESS Bluetooth electrode, this bench-top pH meter becomes almost portable. The connection wires are no longer an obstacle during handling. With a range of 10 m, pH measurements can be made by moving the electrode within the laboratory, and no longer solutions near the pH meter. The chemical risk is thus reduced.
Temperature and pH measurement




WIRELESS – Bluetooth




Resolution 0.01 and 0.001 pH




Range-2.0 to 16.0 pH




Accuracy +/- 0.002 pH




5-point calibration




Storage of measurements




Temperature compensation




Cal-Check function for probe status control




Worktop and wall docking station




Electrode holder
PH electrode:

Combined pH / Temperature




PH measurement range 0.00 to 12.00




Temperature measurement range from -5 to 80°C
Delivered with :
2 × 20 ml of pH 4 and 7 solution




2 × 20 ml cleaning solution




USB cable,




CR2032 battery for the electrode,




AC adapter
LAB BENCH pH-METER | EXPERT
PH, T°C, mV measurement




Resolution 0.1 to 0.001 pH, 0.1 mV, 0.1°C




Range-2.0 to 20.0 pH;

+ – 2000 mV;

-20 to 120°C




Accuracy +/- 0.002 pH




5-point calibration




Storage of measurements (up to 200,000)




Temperature compensation from -20 to 120°C




Cal-Check function to check the probe status




Worktop and wall-mounted docking station

Electrode holder
Electrodes:
pH glass with double junction / BNC connection

Independent T°C
Delivered with :
Solution pH 4 and 7




Electrolyte solution 30 ml




Electrode holder




AC adapter